Some Songs of the Noble Simon, Please
For Edward II, the summer of 1323 should have been like a victory tour. The year before he had put down a rebellion led by his cousin and leading magnate Thomas of Lancaster and made him pay for it with his head. Not stopping there, he had Thomas' pet peeve, the Ordinances, repealed at the next Parliament. Finally, he could breathe again like a real king, and so he set off on a progress north, part of which included taking seisin of the manors left behind by his late cousin. At the end of August he came to Whorlton castle in Yorkshire, and after a day out on the hunt, the king was entertained by two local women, one named Alice and the other Alianore the Redhead, who were paid the respectable sum of three schillings for their work.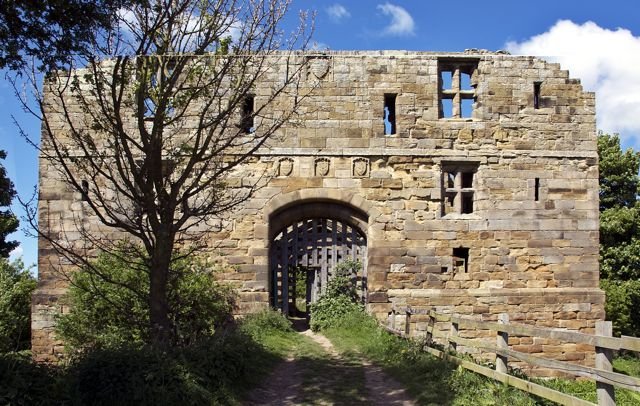 This entertainment has long confused the medieval world, and not because of the tiresome obsession over whether Edward preferred men or women. It was recorded that these women only came to sing to him, as in really sing, but it's who the redhead and her friend sang about that seems oddly out of place: Simon de Montfort, the champion of the Provisions of Oxford, the reforms of the 1260s meant to rein in the king, much the way Lancaster had championed the Ordinances. It's improbable that the king would want to hear cadences extolling a legendary rebellious subject so soon after putting down another one. But then Edward II was never an easy read.
   How much he knew about the life and career of Simon de Montfort is a matter of conjecture. He was born twenty-one years to the date after Montfort returned to England in a campaign that forced his grandfather Henry III to submit to the Provisions of Oxford, the same campaign that saw his grandmother Eleanor of Provence humiliated by a horde on London Bridge and his father carry out what was the first big-time heist in English history. Even worse was in store after Montfort defeated the royal party at Lewes and made the family his captives as he went about ruling the country. Not the kind of recollections a proud man like Edward I was likely to dwell on in his old age, and he was already in his mid-forties when his son was born. Perhaps the most the younger Edward ever heard his father recall was his victory at Evesham and the disgraceful mutilation of Montfort's body, an admonishment to the future king to be grim to anyone who challenged your authority.
   Whether or not the younger Edward had his father's innate cruelty in him, he loathed Lancaster like no other, ever since he had had the head of his dear friend Piers Gaveston chopped off in a kangaroo court action. The charges of treason and rebellion alone against his cousin entitled Edward to have him hanged, drawn and quartered, the same nasty fate his father meted out to William Wallace among others, and the one he served up to Lancaster's men. But by ordering only the loss of his head, he could look both magnanimous and pay him back for Piers by reenacting the execution of his friend, namely by having Thomas ridden out to the chopping block as what had happened to Piers. He may have even rubbed it by making sure this richest noble in the country, the holder of five earldoms, was borne there on a 'worthless mule'.
   If upon his arrival north Edward heard there were songs to be heard of Simon, he may have wanted to cut his cousin down to size even more by having them publicly sung before the court. He knew comparisons were already being made between Lancaster and Montfort, two martyrs who gave their lives in the cause of justice no matter what the king might think. Of course, that was laughable. Simon won his battle and had enjoyed prestige and respect at home and abroad that Thomas could only have dreamt of. In the end it was treachery that did him in. Lancaster, on the other hand, was a study in ineptness in whatever he took in hand. While he could be praised for being the only baron with the backbone to make the hard decision, namely to rid the realm of Piers once and for all, all his actions from that point on are distinctly muddled and lacking in resolve. He was more like Gilbert de Clare, the betrayer of Montfort, than Montfort himself.
   Where the comparison was right on, and the most worrying for Edward, was the cult of personality already being cultivated for Thomas. It's unclear how much he really knew about Simon's cult, which drew pilgrims from all ranks of society to Evesham. It had been such a political nuisance for Edward's grandfather and father that they banned even mere talk about it. In the end they had to make concessions and reabsorb the surviving Montfortians before it finally went away. One of these was Thomas de Cantilupe, Montfort's former chancellor. He was made bishop of Hereford right around the time Montfort's cult began to fade away and it was he who reportedly baptized Thomas of Lancaster after his birth in 1278. Cantilupe was canonized in 1320, two years before Lancaster's execution, and the liturgies composed for the sainted Thomas were now being imparted to his supposed namesake.
   Simon's cult had been confined exclusively around Evesham. The cult for Thomas sprang up similarly around the place where his head rolled and in no time the whole area was awash with talk about miracles being performed at his makeshift shrine. If anything, the political element was even stronger in Lancaster's case, for that very summer a plaque commemorating him was raised at St. Paul's in London attesting to the cures to be had there. Edward had the plaque with its 'diabolic deception' removed, but he clearly had a big problem on his hands with his dead cousin. Passing close to the shrine on his way to Whorlton, he might have heard nothing but Thomas this and Thomas that from the local population. Perhaps he ordered his attendants to scour the countryside for minstrels who knew songs of Simon de Montfort in a bid to change the rebel-cum-saint of the moment. If the people were looking for one to glorify, let it be one from the past, one who was not connected to his rule, and who, at least, deserved it more.
   Edward's days, however, were already numbered, as he could never get over having favourites around him who alienated everybody, but where Piers was one, he had two in the Despensers, father and son, son and grandson respectively of the Hugh Despenser who fell with Simon. Lancaster's cult grew ever stronger as the opposition to his reign intensified to the point where the judgement against Thomas was overturned by Parliament. But by then Edward had been deposed, and his son was in the clutches of his mother and her lover Roger Mortimer, the namesake grandson of the fiend who oversaw the dismemberment of Simon's body. The new king lent his support to Lancaster's cult, such that where the one for Simon lasted only a decade, Thomas' continued to rake in the business until finally shut down by the Reformation, more than two hundred years later.
   From the modern perspective of dysfunctional families, there is one more possible explanation for Edward II enjoying an evening of songs about Simon de Montfort over a goblet of Gascon wine. He was six years old when his mother Eleanor of Castile died, the last of her 16 children and the only boy to survive to manhood. His father's war years on the continent and in Scotland were about to begin. The expense and setbacks involved in those campaigns, combined with old age, made Edward I a harsher, more dangerous man to confront than usual. One can almost imagine him relentlessly bullying his son into cutting the same stern figure of a man that he was, culminating in a nasty scene a few months before senior's death in 1307.
   He had heard rumours about Piers Gaveston's hold over his son. When Edward asked his father if he might not grant Piers the county of Ponthieu, which came from his mother, the Hammer of the Scots exploded, heaping all sorts of abuse on him and threatening to disinherit him. Always one to resort to violence in the end, he then grabbed him by his hair and began yanking out as much as his strength allowed, before throwing him out and exiling his presumptuous friend. He commanded that Piers not be recalled upon his death, which is exactly what Edward did. Whatever the realm thought of Piers, he had meant more to Edward than anyone else and he had avenged himself on Lancaster for his execution. Perhaps the only way he could get back at his father was by reminding the world of the time when the great Edward was shackled and humbled at the hands of Simon de Montfort. By all means, ladies, another number.