Evesham was one of the turning points in English history. Go to the battle site today and see if you can tell. Battlewell, where Simon de Montfort reportedly fell, is choked by such intense underbrush you have to cut your way in to see it. Poor English Heritage, they don't even have enough money to run a lawn mower over the battlefield trail. Most of the site is in private hands, so the fields have a serene and peaceful look to them today, belying the horror that occurred here on 4 August 1265.
The Wars of the Roses have always received better copy because of the snappy title, geographical colour, and Elizabethan Theatre. The Tewkesbury Medieval festival plays on this solid groundwork with a reenactment of the battle of Tewkesbury in 1471 and you have to hand it to the participants this year. They must have been broiling in that armour under the relentless sun.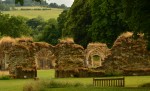 Two small side trips that day included Brackley, where one last attempt was made to arbitrate for peace before civil war broke out in 1264 (a ruse on the royalists' part, of course); and Hailes Abbey, built by Richard of Cornwall after he survived a harrowing sea voyage from Gascony. For nearly three hundred years, it was a pilgrimage site thanks to its possession of a vial of Christ's blood obtained by Richard's son Edmund. Henry VIII's hooligans dispelled the blood hokum and destroyed the abbey for good measure. Only ruins remain but English heritage is still happy to charge you £4 for a look up close. At least the grass around it is mowed.