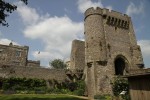 Everybody talks about terrible English weather but it was another glorious day for the trip to Lewes. The way there was clear, no fords to cross this time, but not a single sign welcomes the visitor to the town with any hint of the momentous event that had occurred there. No signposts within the town either pointing to a battlefield trail, or the castle, priory, museum. You just have to know the street and number before you get there.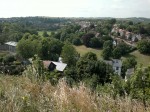 At Barbican House Museum, High Street 169 incidentally, we got a firsthand look at the tapestry being prepared for Lewes 750 next year. Two of the volunteers working on it were kind enough to field questions, adding they weren't nuns like the ones who made the Bayeux tapestry in Normandy. You can read more about it here. There were great views all around from atop the Castle: the ruins of the priory to the south, the River Ouse to the north, the Downs to the west. 
Edward must have gripped the hilt of his sword tightly as he saw the hated Londoners amassed before him. He would have his revenge as he drove  them towards the Ouse in the upper right corner. Henry and Richard, of less martial zeal, were probably unnerved by Montfort's bold challenge. Houses now dot the landscape where most of the fighting occurred, as Simon's men pressed home their advantage. A nice breeze was blowing, so it's easy to imagine a windmill standing on the site where it was reputed to be.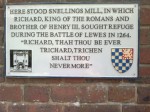 Richard was probably following Henry and his attendants towards the priory when he was either overtaken and locked up there or perhaps he sought to hide out before making his escape towards Pevensey Castle. However it came to pass, it became the stuff of legend, along with the letters of defiance, Simon's coach, Edward's furious blunder, the Mise of Lewes, and other aspects of the battle that give it a fable-like quality.