Richard of Cornwall was born in 1209 as the youngest son of King John. His life of adventure made him one of the wealthiest and most widely travelled men of his era. Praised for his diplomatic and organisational skills, he led the last successful crusade to the Holy Land and in 1257 was elected king of Germany. At home he was indispensable to his brother Henry III, but he resented his dependence on him and often equivocated his support. When his brother-in-law Simon de Montfort raised rebellion against the regime, Richard took a neutral stance, and it ended up costing both him and the king. He emerged from that low point to exert what was his greatest and lasting influence on his German subjects. He took one of them as his third wife, a teenage beauty who was forty years younger than him. Ever a seeker of glory, luxury and pleasure, Richard sired numerous children with mistresses and gladly squeezed the peasants to finance his ventures and lifestyle, but also came to their rescue when famine beset the realm. He was both admired and hated when he died in 1272, the same year as his brother. Available to order here.
Thirteenth-century Europe was dominated by two families, the Plantagenets of England and Capetians of France. A third family straddled both of these dynasties, the De Montforts. Ennobled with the lordship of Montfort l'Amaury outside Paris, their rise from royal foresters and wardens was fast. Queen of France, Bishop of Paris, Duke of Narbonne, Count of Evreux, Earl of Gloucester, Lord of Sidon, Princess of Wales. From the British Isles to the Holy Land, the De Montforts were everywhere, involved in all the major events of their day. There was Isabella, mounted in full armour, leading troops in the field, while her sister Bertrade led a fabulously scandalous life at the French court. Far and away the most famous are the two Simons, father and son, each a crusader and revolutionary who attempted to impose a radical constitution on the existing social and political order. Even after they fell in battle, their De Montfort kin kept up the struggle, whether winning the throne of Sicily or committing one of the most scandalous murders of all time. But the end, when it came, was just as fast, and by the fourteenth century they were practically extinct. The house of Montfort was no more, but what a ride it had been. Available to order here.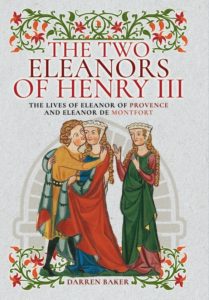 Eleanor of Provence was born in the province of her name in 1223. She has come to England at the age of twelve to marry the king, Henry III. He's sixteen years older, but was a boy when he ascended the throne. He's a kind, sensitive sort whose only personal attachments to women so far have been to his three sisters. The youngest of them is called Eleanor too. She was only nine when, for political reasons, her first marriage took place, but she's already a chaste twenty-year old widow when the new queen arrives in 1236. In a short time, this Eleanor will marry the rising star of her brother's court, a French parvenu named Simon de Montfort, thus wedding the fates of these four people together in an England about to undergo some of the most profound changes in its history. It's a tale that covers three decades at its heart, with loyalty to family and principles at stake, in a land where foreigners are subject to intense scrutiny and jealousy. The relationship between these two sisters-in-law, close but ultimately doomed, will reflect not just the turbulence and tragedy of their times, but also the brilliance and splendour. Available to order here.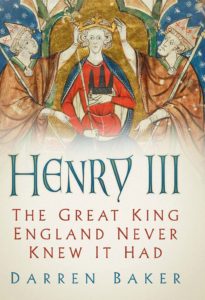 Henry III reigned for 56 years, the longest-serving English monarch until the modern era. Although knighted by William Marshal, he was no warrior king like his uncle Richard the Lionheart. He preferred to feed the poor to making war and would rather spend time with his wife and children than dally with mistresses and lord over roundtables. He sought to replace the dull projection of power imported by his Norman predecessors with a more humane and open-hearted monarchy. But his ambition led him to embark on bold foreign policy initiatives to win back the lands and prestige lost by his father King John. This set him at odds with his increasingly insular barons and clergy, now emboldened by the protections of Magna Carta. In one of the great political duels of history, Henry struggled to retain the power and authority of the crown against radical reformers like Simon de Montfort. He emerged victorious, but at a cost both to the kingdom and his reputation among historians. Yet his long rule also saw extraordinary advancements in politics and the arts, from the rise of the parliamentary state and universities to the great cathedrals of the land, including Henry's own enduring achievement, Westminster Abbey. Available to order here.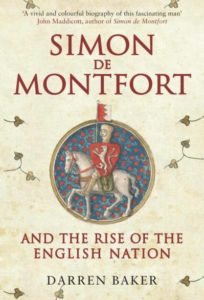 A stranger steps ashore, wins the king's favour, marries his sister, topples him in revolution and falls in battle with the king's son. Such was the life of Simon de Montfort, a thirteenth-century Anglo-French nobleman whose determination to force the king to abide by the Provisions of Oxford, the Magna Carta of its day, ended in a clash of wills and armies and ultimately in one of the most compelling and dramatic periods in English history. Like his crusading father before him, Simon's combination of charisma and fearlessness made him one of the greatest men of his age. This biography follows his life from his birth in France and arrival in England to his defeat and death at Evesham in 1265. Along the way he succeeded in establishing a constitutional monarchy and, in the act he is most famous for, broadening the scope of representation in Parliament. King Henry III's long reign (1216-1272) saw many changes taking place in England and on the Continent, including a re-awakening in national identity not seen since before the Norman Conquest two centuries earlier. Simon's recognition and cultivation of this growing awareness was instrumental in his rebellion and takeover of the government. Not for another four hundred years, until the advent of Oliver Cromwell, would England see a revolution led by a figure of comparable stature. Available to order here.